A trip to Northumberland to spend a week in a cottage meant lots of big sky beach walks, fresh sea air and castle views. Here's a selection of pages from my sketchbook and some doodles on rocks too! Fave moments include seeing the dogs go crazy on the sand, end of day light and watching the world go home for tea from the castle walls, and seeing a half yellowing moon hanging over the dunes, backdropped with a star-pocked sky.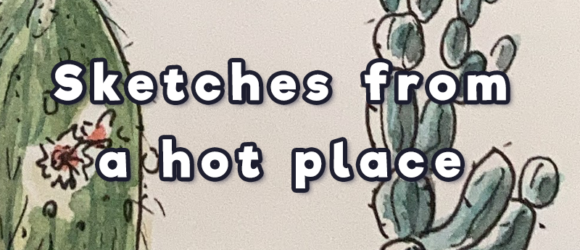 Several weeks ago myself and my partner, Josie went off to Lanzarote to visit her cousin and nieces. It's the kind of location I probably wouldn't head to as it's quite rocky and barren looking in the photos, and I'm not much one for just lying on a beach (English skin ahoy..)
It was such an interesting little island though, and we had a great time! I took my sketchbook and pocket watercolours, doing little doodles when I got chance (we were only there for 5 days and the nieces were high energy!). Highlights included a cactus garden and falling asleep with the sound of the sea from our apartment window. Lush!