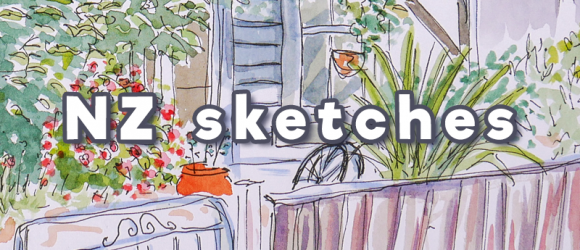 Sketches from New Zealand? But you live in England! So, why?
Well, I spent the end of 2017 and early 2018 in Australia and New Zealand, travelling around with my girlfriend. She was touring a theatre show and as I could continue my animation work with just my laptop and an internet connection, I took the office on the road for a short while! It was great fun and allowed me to meet her family on the New Zealand side, down in Christchurch.
Christchurch
We spent a week there over Christmas, enjoying their summer whilst everyone was shivering back home (sorry, but the gloating rights are still being exercised!) We stayed with her brother and his girlfriend, who live in a traditional workers cottage on the edge of town. It's even got a tin roof! It was pretty special. I learnt a lot about the town and how it's still recovering after the massive earthquakes that destroyed most of the buildings and infrastructure back in 2011. It's still got these containers which acted as pop up shops until new ones were built. They were due to be de-commissioned just after we left, the extent of the re-build project being so huge.
Kaikoura
We also travelled to Kaikoura for a few days, which was actually pretty stormy and a bit chilly! I wasn't prepared for it at all. The bay was beautiful though and we saw the seals flopping about on the pebbles and near the benches. They had zero interest in humans!
I love to sketch when I'm travelling, although I sometimes struggle to get myself to actually do it! Carving out the time can be tricky when there's often a limited amount during a vacation, but if I do I always find the images bring back so many memories of the trip. It's worth it in the long run! I still remember the chilly feeling waking up in Kaikoura, almost like we'd camped as the house was a rambling self build with bits added on and varied materials throughout. Very cool! Seeing the tops of the mountains across the bay tipped with cloud can make you feel very small indeed, especially after the rain storm the evening before. The plants were still looking perky though (and so exotic!)
Jumping out of planes
For Christmas my girlfriend, Josie bought me a skydive. I'd always wanted to get that close to flying but when I actually was presented with the gift I was instantly bricking it! When we were going up in the little plane, I was very calm (like I'd accepted my fate) but this did me favours as it allowed me to enjoy the free fall and parachute much more. Zipping through the damp clouds then seeing the patchwork of Canterbury appear before you was unbelievable. I would definitely go again! So massive thanks to Josie for it 😀
Anyway, I hope you like my short selection of New Zealand sketches. I wish I could do a tour and JUST draw. One of my aims is to make a book collecting all my sketches that I love. I'll have to see if I can carve out some time for that!