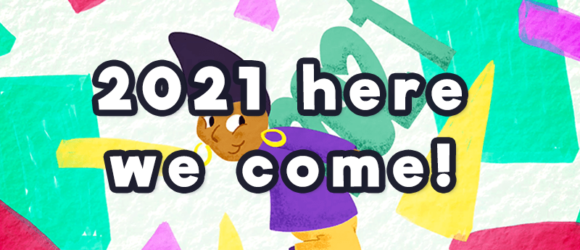 A belated but very heartfelt happy new year to each and every one of you.
2021 has some VERY exciting plans in the works for us, and that means we can really help you in more areas of animation, rigging and all those lovely little areas around it. We've been heavily experimenting with natural media effects in Toon Boom, so look out for more on that this year too (as you can see a taste of in the animation below!)
I hope your year has started well and that the news isn't getting you down. If it is, I have a 3 step plan which I can guarantee works 99% of the time (it's free too).
1) Place all the items you receive news on in a room together
2) Shut the door on the room. Avoid at all costs
3) Have a nice drink and stare out the window at the wonders of nature
😀
Adam
N.B: That little joke there isn't meant to be insensitive, just my nod to the mental war we're all waging on the disasters on our screens right now. It's exhausting, I know! There is light though, so keep the faith 🙂
Hey everyone! Exciting news…I've been working away on a business idea, Toon Boom Trainer and I recently launched the website.
Funnily enough, the website is called ToonBoomTrainer.com. We get animators up to speed in the 2D animation software, Toon Boom Harmony. But we're not just another online course. I'll act as your personal tutor, with a weekly review chat, 7-day support and great source files to work from. I've replicated the studio mentorship environment and applied it to this course, so you'll get the absolute best advice along the way.
It's perfectly suited to those who don't want to spend days trawling YouTube for answers, or stumble through the more complex aspects of the program using tedious PDFs. Learning new software is an amazing investment and Toon Boom Harmony is dominating the animation industry right now. If you're an animator already, four weeks of training will allow you to apply for Harmony-specific studio positions.
The Summer School is really just to test the water and covers a lot of ground, hence the intensive term! After this though, I'll be focusing on specifics, so there will be rigging, animation, design and workflow courses. It's worth mentioning that all the course is 'intensive', you can complete it part-time. This means you can keep your bill paying job and learn something new. To allow for those areas you might want to study further, we've got 'stretch tasks' which will enhance your understanding. Our current start date is set to July 31st, but we're flexible and may run two batches of classes due to subscription levels.
If you're interested in Toon Boom Trainer and would like to know more or have some feedback for me, please do get in touch!