Several weeks ago I went down to Birmingham to try out the brand spanking new Dell Canvas, a sort of Wacom Cintiq if you will. But it's all smooth and shiny and brand new, so it was great fun to just play with! Here are the guys tweeting about it ahead of tomorrow's showing:
If you fancy a laugh, watch me pretend to be a presenter tomorrow (Friday 12th May) at 7pm on Channel 5. Or if you miss it and you're a SUPER FAN, go catch up on Channel 5's website.
For anyone who finds my little space on the web after the show, say hi via the contact page and let me know what you thought! Cheers!
Jeep Jeep!
Whilst I was away in Dubai, I went to a Christmas party with about 20 other ex-pats (and my friends Luke and Claire). It was pretty cool to be eating turkey, Yorkshire puddings and gravy whilst sitting outside in the warm evening weather! The whole event was great fun and the people were all top drawer…very friendly chaps!
There was a little secret Santa event (or whatever you call it in your country) and so I helped Luke out by painting a watercolour picture of his friend's pride and joy, his old jeep. Now I love doing things like this. If you like to draw, paint or create in any way, you'll know what I mean when I say these presents are fun and really well received. It's such a brilliant way to make someone happy and you get enjoyment out of it too…win-win!
It wasn't too difficult to draw this jeep as it had some distinguishing features (like the face on the side) plus I could make it recognisable with the colour scheme and slightly exaggerated shapes. I'm not a fan of those overly cartooned vehicle drawings but for me, this was a 'draw anything and they'll love it' project, so it's no expectation and no pressure.
We put it in a nice frame and the guy loved it. He sent Luke a photo when he got home showing it in pride of place!
If you are stuck for a gift for someone, I'd really recommend trying a drawing or painting of a subject they like (you can even do something abstract based on a favourite photo, using the colours or shapes as a starting point). It doesn't matter where your ability is at, it's the thought out process everyone loves and I think we could all do with buying a bit less 'stuff' that people end up putting in a cupboard never to use.
If you'd like me to draw and paint your pride and joy, you can get in touch via the contact page and I'll do you a free quote. If I've got time I love these kinds of projects and they make AMAZING, one of a kind gifts.
Happy holidays!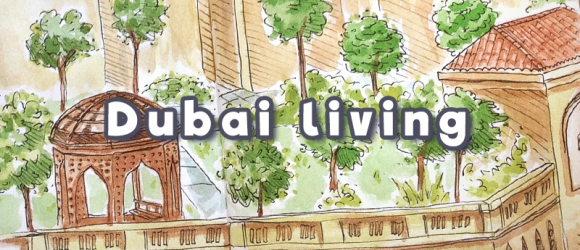 I'm currently visiting my friends Luke and Claire in Dubai (have a look at Luke's ace sunglasses company, wildwoodme.com) so doing a bit of sketch journaling whilst experiencing this city living.
I've never been to Dubai or the UAE before, but it's a pretty interesting place. Past the fact that there's this futuristic city in the middle of a desert, the whole culture is full of contrasts. The most interesting being the mix of a strict Muslim social bedrock right next to the liberal expat lifestyle.
This is the view from one of the many high rises that have popped up in the past 10 years. Smudges of green in a sandy coloured landscape, with tiny spots of human colour. Going camping in Oman for a few days too, looking forward to that one!