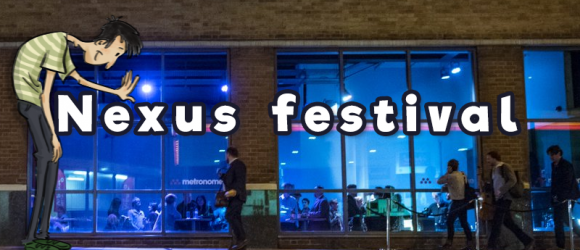 I've been entering the (free) festivals with my little film 'Who Moved My Penguin?' since it was finished in February this year. I've been lucky enough to get in a few too, which is very nice! I love watching things on the big screen, and one of those was in my hometown of Nottingham. The festival was called Nexus and took place at the swanky new arts venue, Metronome (new to me anyway…think it's been there a few years now).
My film was in a session of animation, music videos, documentaries and comedy. It was a brilliant display of variety and talent, and I came home very inspired! Some of the highlights for me included a short film about ghosts from their perspective and some great music videos for local bands.
The film is also showing in the USA, Russia and of course lovely old England. It was the first time I'd seen it on the big screen though, so a brilliant milestone. Now I'm looking forward to making the next short, and of course working on this comic / graphic novel that is taking form. More to post in a few weeks, if I get chance before my brother's wedding..! Best man speech to write and all… 😉
Ever taken part in a Sketchcrawl? This is the original sketch meetup by Enrico Casarosa of Pixar fame. It's like a pub crawl, but with drawing instead of beer (well, the beer is not the main focus, at least!) It's a great way to meet fellow sketchers and see a place with fresh eyes.
There's an event 29th July 2017, [edit: the event has been and gone, but check the Sketchcrawl forum for future events!]  http://www.sketchcrawl.com/forum
Added frivolities: I did my own one-man band sketchcrawl (so keen, so sad) back in 2004. I was a student then and just out around my hometown, Nottingham. Here are a few pictures from the day. Was a lot of fun as a little project, and interesting for me to see how I've developed. The sample pages below show I was still wrestling with construction and my 'cartoony' tendencies! That's what you get growing up reading The Beano 🙂 See my new sketchbook work here.
My current hometown, Manchester is a great place to draw. There's all the industrial charm of Deansgate locks, modern developments popping up all over the city and not forgetting the easy hipster pace of Ancoats. The tram is the lazy option, as places like Cornbrook will give you amazing views of the changing skyline, like the super expansion of Salford. Then you just hop back on and off you go! Easy peasy.
I still remember the things I drew that day (full disclosure, these sketches are pretty pants, but it's good for nostalgia!) A sketch is worth a BAZILLION words my friends. Happy sketching y'all!